---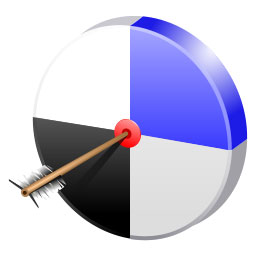 Large Delicious Icons are a free icon collection ideal for Personal blogs and Web-pages. This set pictures the well-known Delicious symbol in lots of fresh and attractive variations.

The icons from the pack come in sizes of 16x16, 24x24, 32x32, 48x48 and 128x128 pixels, as well as in specially created, extra large sizes of 256x256 and 512x512 pixels. The icons are available in True Color with semi-transparency format. They are delivered in all of the following formats: ICO, PNG, GIF and BMP.

This fabulous icon pack is available for instant free download!


Download delicious icons

All free icons listed on this page are licensed under a Creative Commons Attribution-Share Alike 3.0 License. This means that you can freely use these icons for any personal and commercial purposes (software interfaces, online services, blogs, templates etc.). However, you should include a link to www.aha-soft.com in your credits.


---
Delicious Icons - Perfect For All Types of Applications
Are you looking for some wonderful vector art for your system or website for icon vector? As you all know that free icons plays a significant function in navigations or user interfaces. Delicious icons can be used in different types of commercial and personal projects like facebook icons. Some of the most common are desktops, websites, cell phones, platform based applications and others.

You can get vector art icons those can be altered to any size and can be easily dragged to its normal size. Vector art icons are prefect for desktop, mobile and web applications. The best thing about these icons that it works in Windows Microsoft, Apple Macintosh, Linux and all types of applications. Certainly, you will get an independent icon format. This if one of the best icon and can be run on all the given format there are many more features that you will see in delicious icons.

Today, many web designing and web development firm are using free icons for web pages and blogs. This delicious symbol offers lots of attractive and fresh variations to your desktop or website. Most of these free icons come in different types of shapes, sizes, and with blue shade. You can get icon vector in 16x16, 24x24, 32x32, 48x48 and 128x128 pixels. There are also big size icon vector that ranges from 256x256 and 512x512 pixels. You can get facebook icons that will give your website a classic look and will attract lots of visitors from all around the globe. You can very easily search for these types of icon online, as there are many websites that will help you find the best icons.

Some of the most interesting formats available are BMP, GIF, PNG, ICO, JPG and others. If you are looking for icons, then the Internet is one of the best places. There are hundreds and hundreds of websites those are offering free download. Yes, the download option is free and for this, you just need to look for some best provider. There are some good websites those offer facebook icon download. Now, with the help of this icon you can create stunning web pages and attract global visitors.

Tags: delicious icons, free icons, icon vector, vector art, facebook icon
---
Individual Ready Icons
You can buy individual icons to suit your needs. Each icon is $1 when purchased individually.
Icon Usage Agreement
Large Weather Icons
represent different weather conditions that are common for software, weather Web sites, and mobile gadgets. The images are supplied in all sizes standard to Windows, Mac OS, and other platforms. The biggest versions are huge 512x512 pixel icons with vector sources in Adobe Illustrator (.ai) format easily available and ready to be printed or used in presentations in highest resolution.
If you are interested in a modern and attractive interface for you e-commerce application, think about using icons in large sizes.
Large Commerce Icons
set by Aha-Soft is just what you need. This set provides the best appearance to all your projects.
Add beautifully crafted toolbar icons to your recent projects.
Program Toolbar Icons
are instantly available, royalty-free graphics of items, actions and concepts that are commonly used in application toolbars.
Make your software look as nice as Vista with icons crafted in the same style
Vista Toolbar Icons
will give a new twist to your interface replacing the regular icons with top grade stock icons in Vista style. The icons have bright colors and smooth edges.